Here I have a space to show off my students, by their proud instructor.  You could be one of them.  Take a look at my upcoming events and give me a call to register!
________________________________________________
May, 2019 Livonia Parks and Rec
First class at this location and it was packed full!  Check this out and you should try and join one of these classes if you can. Nice and easy first time painters making gorgeous Bob Style paintings.  I'm here 2x a month now, lets have some fun!
May, 2019 Hobby Lobby, Monroe MI
We took a stab at a very cool night time Florida style seascape vista.  Small waves, palm trees, finger painted moon, oh my!
_______________________________________
May, 2019  Rainy Day Art and Framing
Look at this amazing campfire (with cowboy!) that my students created.  So cool.
_______________________________________
May, 2019 Lake St. Clair Metropark.
My second class at this venue and it was packed!  Big mountains and waterfalls!
______________________________
April, 2019  at Nature's Brush Studio
Another Airbnb customer.  She was a wonderful student!
__________________________
April, 2019, Lansing.  American Fifth Distillery.
I had my first of (I hope) many events at this great location in our capital city, Lansing, Michigan.  Great Venue, great people!
________________________________________
April, 2019 at Nature's Brush Studio.
Check out this small group of AirBnB Experiences students.  I had my first of several Airbnb sign ups with their new Experiences program.  Look how great they did!
April 5th, 2019 Virginia
I was so happy to be a part of this 50 person event.  We had the amazing instructor Doug Hallgren, and I floated as a helper along with another CRI Eddie.  We had a great time and no group is too big for us!  Just a longer cleanup!
___________________________
March 2019, Monroe, MI
Hobby lobby classes are also a good time, that's why in back there every month.  Watch here, or the display in the foyer for my next class and give me a call!
_______________________
March 2019 Monroe MI
Another event at my friend Patrick's church.  I bring the supplies, you bring the people!  Look at this effort, wonderful!
_____________________
February 2019 at Hidden Lake Gardens
I love heading down to Tipton MI, and meet some people willing to try something new.  New to painting for them, New couples painting for me!  First time trying students sharing a composition on two canvases.  Some other students did the whole painting on one.  Great job all!
__________________________
February 2019 private lesson
Well done here!  1 on 1 lessons allow for some intensive instruction.  This one was based off a photo that he provided.  The painting will be a gift to his snowboarding sister!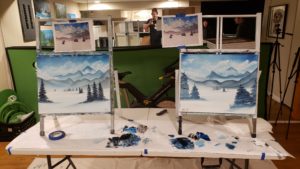 February 2019 Hobby Lobby
Once again my regulars and new friends outdid themselves!
February 2nd, Rainy Day Art and Framing
A big ol class, full of bright happy faces. Look how happy they are with this northern lights style painting!
---
JANUARY 2019 Hobby Lobby. Starting the year off with more seascape action. The Monroe class got into it and had a great time.
______________________________________________
January at Rainy Day Art and Framing
12 happy painters here! Well done class, got to a nice class wide oval reveal in this lovely seascape. See you next month!
_____________________________
December private party!
A lovely daughter bought her family a group class held in their home. What better way to spend the holidays!
December group class:
My third visit with these fine ladies, another job well done.
December 1 on 1 lesson
Private lessons are great for an intensive training session, and ensures lots of individual attention. He did great!
---
November 2018 Hobby Lobby class
Amazing success with the evergreen trees are the highlight of this class. I think I should teach "upward" facing trees more often! See you next month, ladies!
October, 2018 Hidden Lake Gardens
I went back and had a great time with this special event! New people, new friends, great paintings.
October, 2018 Private lesson
Here is a pic of a new Bob Ross painter at my home studio. Well done Mike!
October, 2018 Hobby lobby
Another great day, fine work!
Sept, 2018 Rainy Day Art and Framing
My first class at this awesome art supply store and cant wait to be back in November (check class schedule). They did so well and hope to see them again.
September, 2018 Hobby Lobby!
Two gentlemen came in for my one year anniversary and we had a good time with shelf paper, making state cutouts! Make your own state with this method, and you will have a great time and a wonderful memento you will be proud to hang in your house!
August, 2018 at Hobby Lobby. Good times, great students!
My July 2018 class at Hobby Lobby was awesome! I have some returning students as well as several first timers, including a new friend doing his first painting in 24 years! Great job all!
Here is a picture of a very fun group of ladies who wanted a private event just for the three of them. I can always oblige and we had a great time with a variation of a classic night sky mountain view. Look at those moons! Thank you for a wonderful time.
Private lesson time! Two lovely ladies came over to my studio and painted this great painting based on a photo they liked. It's a representation of Multnomah Falls, Oregon. An amazing first attempt at painting!!
My May 12th class, doing a bang up job at gesso trees and an oil glaze. Look at those colors!
I went back to Lansing in May for another session at an apartment complex where a friend works. Amazing job ladies, I hope you want me back for a third visit!
Here is a local setup from my April 8th class in Monroe, simple and clean, fits eight!
One of the organizers of the Monroe Church class and his mom, aww! Families make great painting partners.
Here is a great Hobby Lobby class, check out that red background on the left! I love it and shows that everyone can make a painting their own with their own color choices.
A typical setup at Hobby Lobby. Lots of room for everyone!
'
Here is nice big group at the Hidden Lake Gardens in Tipton MI, thank you to all that made this big event something special to me!
A nice winter scene at HL in Monroe They all did so well~
A childhood buddy and his daughter came out to paint, check out those aurora borealis successes!
A free class I put on for some lovely ladies, they all did great! All first timers too.
Ladies' night at my home studio, first paint, THEN drinks gals!
Hobby Lobby, Hazy Day, I love this painting and both my regulars and new students pulled it off.